Frequently Asked Questions
If you have questions about your Q-Collar, sizing, or bulk orders, you've come to the right place.
Sizing
How do I choose the correct size Q-Collar?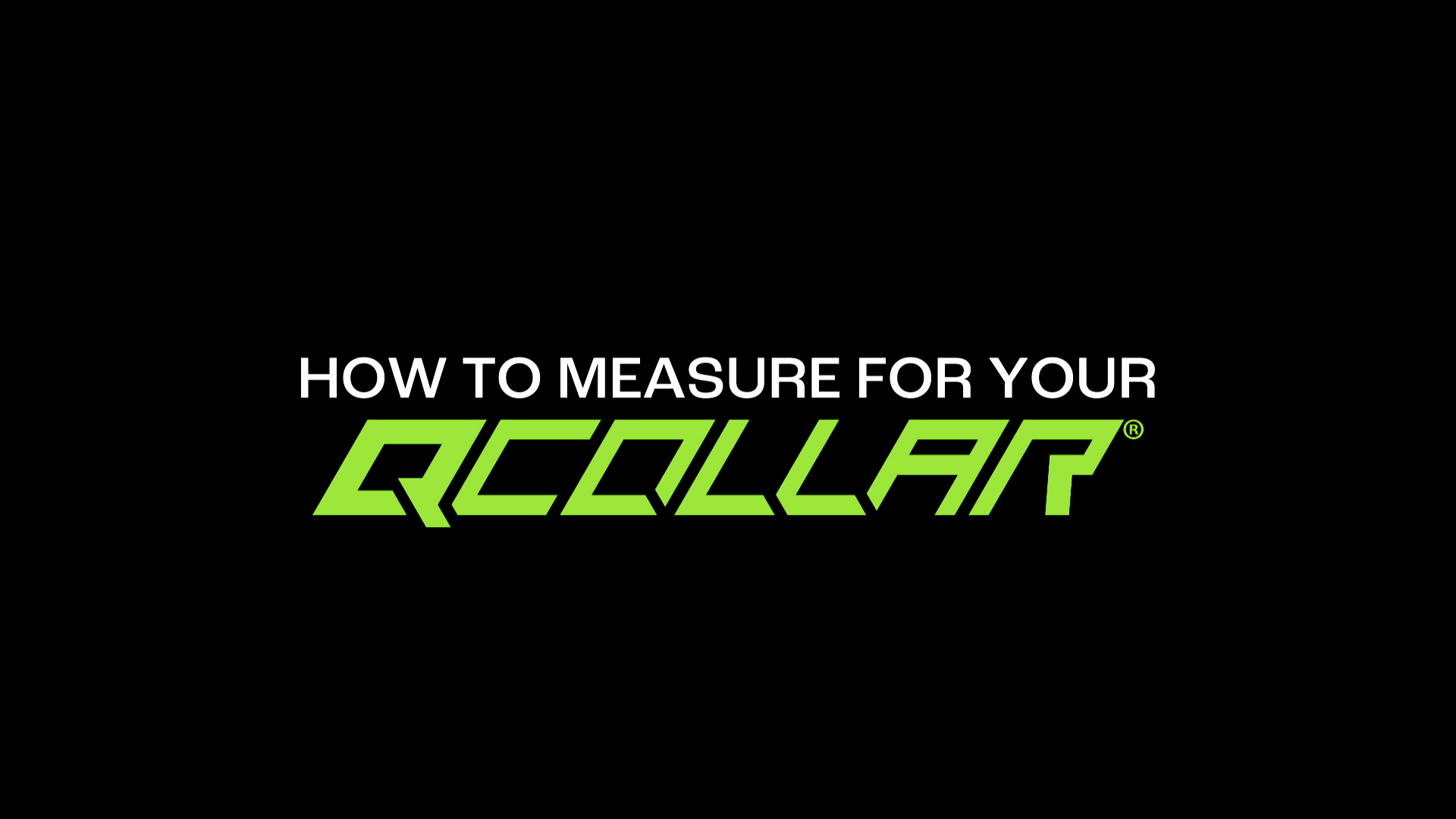 Accurate measurement is important to selecting the right size Q-Collar for you. Start by using a soft measuring tape to measure the middle of the neck. Make sure it is snug with zero slack between the tape and neck. Measure three times and use the smallest measurement. If you do not have access to a soft measuring tape, consider using a shoelace or string, then holding it against a ruler.
We do not recommend using a shirt size for this measurement.
Product Overview
How does the Q-Collar work?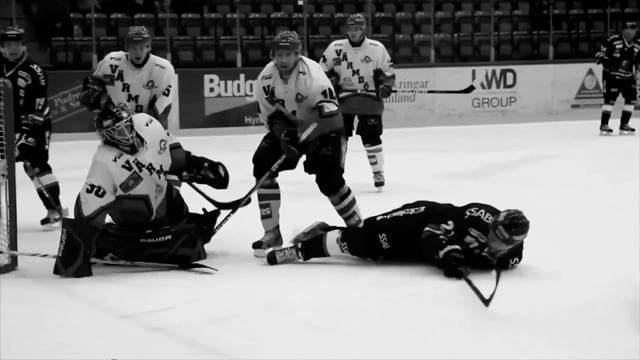 The Q-Collar is a simple and safe device that applies light pressure to the jugular veins. This pressure causes a slight increase of blood volume inside the head and helps reduce the brain's movement upon impact, which is the primary cause of brain injury. Similar to a seatbelt in a car, the Q-Collar helps to keep the brain more secure during impacts.
How does the Q-Collar compare to other head protection equipment?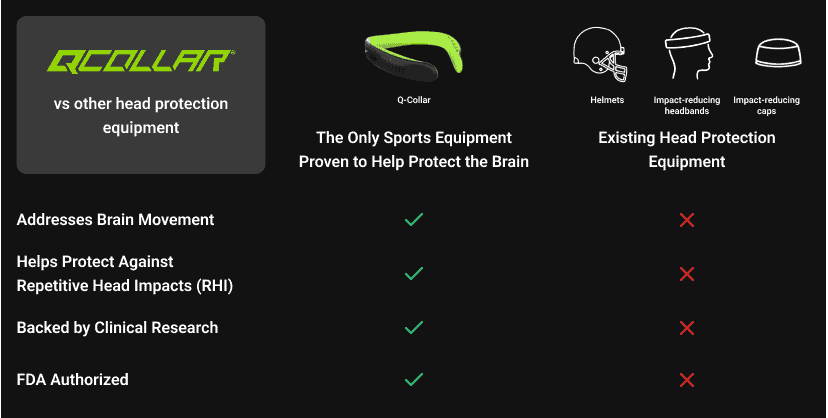 What sports can the Q-Collar be used for?
The Q-Collar is designed for any sport or activity where an athlete is at risk of exposure to head impacts.
To date, we know of athletes wearing the Q-Collar in football, lacrosse, soccer, hockey, basketball, volleyball, track & field, bobsled, skeleton, luge, equestrian, rugby, field hockey, car racing, MMA, boxing & other combat sports!
Visit our Instagram to see the athletes helping protect themselves with the Q-Collar in action.
Which leagues and organizations allow usage of the Q-Collar?
Wearing of the Q-Collar is permitted by numerous sports leagues or organizations, including the following: 
The National Football League, Major League Soccer, National Women's Soccer League, NCAA, USA Lacrosse, National Federation of High Schools (all sports except wrestling), Canadian Football League, Pop Warner, International Bobsleigh & Skeleton Federation, in addition to other youth and club sports organizations throughout the country.
The US FDA and Health Canada have authorized the Q-Collar for use by all athletes ages 13 and over.
Will the Q-Collar interfere with or prevent me from wearing other equipment?
The Q-Collar is not likely to interfere with existing equipment. The Q-Collar can and should be worn with other protective equipment. It sits comfortably below any helmets, above any shoulder pads, typically fits comfortably under a hockey athlete's existing neck guard and has no impact on the effectiveness or usage of your other equipment.
Is there any evidence the Q-Collar causes athletes to play more recklessly?
There is no evidence that athletes wearing the Q-Collar take additional risks or play more aggressively versus those who do not wear it. During clinical trials, more than 500,000 total impacts were recorded and analyzed. The data collected during the clinical trials indicate that the number and magnitude of impacts were comparable between athletes who were wearing the Q-Collar and those who were not.
Does the Q-Collar come in other colors?
There are currently three options for the Q-Collar. There is the standard gray/green and two versions of our Tactical product – Blackout & Multicam.
For additional color options, there are 12 different Q-Collar Sleeve colors that can help you match your uniform.
Research & Testing
Has the Q-Collar been researched?
Yes! The Q-Collar was the subject of 28 independent pre-clinical and clinical studies over 10 years performed by leading research institutions in the US and Canada. This extensive body of research led to FDA clearance in 2021, validating that the Q-Collar is both safe and effective.
In addition to offering protection from injuries caused by head impacts, the Q-Collar is currently being studied for its potential to help soldiers be better protected from brain injuries caused by blast waves as well as for additional medical uses, such as aiding with POTS symptoms.
You can review all the Q-Collar published research studies
here.
What does FDA-Clearance of the Q-Collar mean?
"FDA-Cleared" reflects the highest level of review and authorization by the FDA for a non-invasive, low-risk device like the Q-Collar.

The FDA reserves use of the word "approved" for high-risk devices, such as a pacemaker. Following its thorough evaluation of the independent research, the FDA announced that the Q-Collar (a Class 2 medical device) safely and effectively "provides an additional piece of protective equipment athletes can wear when playing sports to help protect their brains from the effects of repetitive head impacts."
Ordering
Can I order the Q-Collar for my team?
Yes! Team orders and pricing are available. We'd be happy to provide more information. Please contact us to be put in touch with a member of our team.
Is the Q-Collar FSA or HSA eligible?
While plans may differ, because the Q-Collar is an over-the-counter(OTC) Class II Medical Device, the purchase of your Q-Collar is eligible for payment from either your flexible spending account (FSA*) and health savings account (HSA**).  For convenience, you should use your FSA or HSA card.  However, your account administrator may request a copy of your receipt. If you do not have an FSA or HSA card, you can use your regular credit or debit card and submit the receipt to your account administrator for reimbursement from your FSA or HSA.
*An FSA is an employer offered benefit that lets you set aside pre-tax income so you can save money on qualified health purchases including OTC products, prescriptions, vision health essentials, and much more. 
**An HSA is a tax-advantaged medical savings account available to taxpayers in the United States who are enrolled in a high-deductible health plan.  
Is free or expedited shipping available?
Yes! Standard shipping for all products within the US is free. Expedited shipping is available at cost.
For more information on our shipping policies, click here.
Are there any retail locations where I can try on and purchase a Q-Collar?
Yes! See our growing list of retailer locations below.
California
Belmont - SlingIt! Lacrosse
Danville - SlingIt! Lacrosse
San Rafael - SlingIt! Lacrosse
Solana Beach - Lacrosse Unlimited
Westlake Village - Lacrosse Unlimited
Colorado
Colorado Springs - SCHEELS
Highlands Ranch - Lacrosse Unlimited
Johnstown - SCHEELS
Connecticut
Danbury - Lacrosse Unlimited
Fairfield - Lacrosse Unlimited
Greenwich - Lacrosse Unlimited
Madison - Lacrosse Unlimited
Newington - Lacrosse Unlimited
Norwalk - Lacrosse Unlimited
Florida
Boca Raton - Lacrosse Unlimited
Jacksonville Beach - Lacrosse Unlimited
Georgia
Cumming - Lacrosse Unlimited
Hawaii
Aeia - Xtreme Sports Hawaii
Illinois
Naperville - Tama Lacrosse
Iowa
West Des Moines - SCHEELS
Kansas
Maryland
Annapolis - Lacrosse Unlimited
Bel Air - Lacrosse Unlimited
Bethesda - PJ's Soccer/Lacrosse
Rockville - Lacrosse Unlimited
Timonium - Lacrosse Unlimited
Massachusetts
Burlington - Lacrosse Unlimited
Danvers - Lacrosse Unlimited
Franklin - Lacrosse Unlimited
Longmeadow - Lacrosse Unlimited
Wellesley - Lacrosse Unlimited
Weymouth - Lacrosse Unlimited
Minnesota
Eden Prairie - SCHEELS
Rochester - SCHEELS
Montana
Nebraska
Lincoln - SCHEELS
Omaha - SCHEELS
Nevada
New Jersey
Cedar Grove - Lacrosse Unlimited
Madison - Lacrosse Unlimited
Princeton - Lacrosse Unlimited
Red Bank - Lacrosse Unlimited
Ridgewood - Lacrosse Unlimited
New York
Babylon - Lacrosse Unlimited
Bethpage - Lacrosse Unlimited
Bronxville - Lacrosse Unlimited
Garden City - Lacrosse Unlimited
Huntington - Lacrosse Unlimited
Latham - Precision Lacrosse
Manhasset - Lacrosse Unlimited
Miller Place - Lacrosse Unlimited
Mount Kisco - Lacrosse Unlimited
Rochester - Lacrosse Unlimited
Rockville Centre - Lacrosse Unlimited
Sayville - Lacrosse Unlimited
Smithtown - Lacrosse Unlimited
Syracuse - Play It Again Sports
North Carolina
Cary - Lacrosse Unlimited
Charlotte - Lacrosse Unlimited
North Dakota
Ohio
Columbus - Lacrosse Unlimited
Pennsylvania
Ardmore - Lacrosse Unlimited
Horsham - Lacrosse Unlimited
Paoli - Lacrosse Unlimited
South Dakota
Texas
Austin - Lacrosse Unlimited
Frisco - Lacrosse Unlimited
Houston - Lacrosse Unlimited
The Colony - SCHEELS
Utah
Virginia
Alexandria - Lacrosse Unlimited
McLean - Madlax
Vienna - Lacrosse Unlimited
What is the Q-Collar's return policy?
If you're not completely satisfied with your purchase, you will receive a full refund upon receipt of your returned order, as long as the product is not damaged or misshapen and is returned in its original packaging and with accessories within 30 days.
How do I initiate an exchange of my Q-Collar?
If your Fit Check tool indicates you have the incorrect size, you may exchange your Q-Collar at no charge for the right size within seven days of receipt. Return shipping and handling are included. Please contact customerservice@q30.com to initiate your exchange. 
Our Athletes, Partners & News
What are Q-Collar customers saying about the product?
Consistent with our research and the FDA's review, users of the Q-Collar have expressed virtually no concerns with the safety and effectiveness of the product. Professional athletes in every sport – including football, soccer, lacrosse, cycling and bobsledding – are experiencing firsthand the benefits of wearing it. We also regularly receive unsolicited testimonials from parents and youth athletes who are wearing the Q-Collar that are similar to the reports from professionals. These stories are inspiring and drive us to continue our mission to help protect athletes and those who serve.
To hear more from our athletes and customers like yourself, visit our blog, YouTube page and see reviews on our product pages.
What athletes do Q30 work with?
To see the amazing athlete partners we work with across sports, visit our ambassador page.
All of our partners opted to begin wearing the Q-Collar prior to becoming affiliated with our company. We want our athlete partners to speak authentically to their experience!
Is this what I saw Luke Kuechly wearing a few years ago?
Yes! Luke began wearing the Q-Collar in 2017 while the product was still going through the FDA review process. To learn more about Luke's experience with the Q-Collar, check out our interview with him here.
What is Q30's relationship with the Premier Lacrosse League?
Q30, and its product the Q-Collar, is a Proud Partner of the Premier Lacrosse League. The partnership began for the 2022 season and recognizes Q30 as the Brain Injury Protection Equipment Partner of the PLL.
Where can I read news stories about the Q-Collar?
The Q-Collar has been covered on a variety of outlets such as ESPN, The Athletic, Yahoo!, USA Today, CNN, Bloomberg, SportTechie, The Action Network and more. To see some of the coverage we've received, check out our news page!