Q-Collar Tactical
Regular price
Sale price
$249
Unit price
per
The Q-Collar is a non-invasive device intended to be worn around the neck of individuals 13 years and older to aid in the protection of the brain from effects associated with repetitive sub-concussive head impacts. The Q-Collar has been tested and evaluated in some of the harshest environments and conditions including with the most Elite US Warfighters.
Details
The only FDA-cleared device that helps protect the brain during head impacts.
The Q-Collar has been tested for compatibility with most of the current military and government-issued helmets.
The SWAT Team Blast Study results suggest that the Q-Collar could reduce the risk and severity of TBI from blast waves in addition to collisions.

Made in the USA. 
Sizing Guide
What's in the Box
With the purchase of your Q-Collar, the following items are included:
Q-Collar
Travel Case
Fit Check Tool
Owner's Guide: Download now here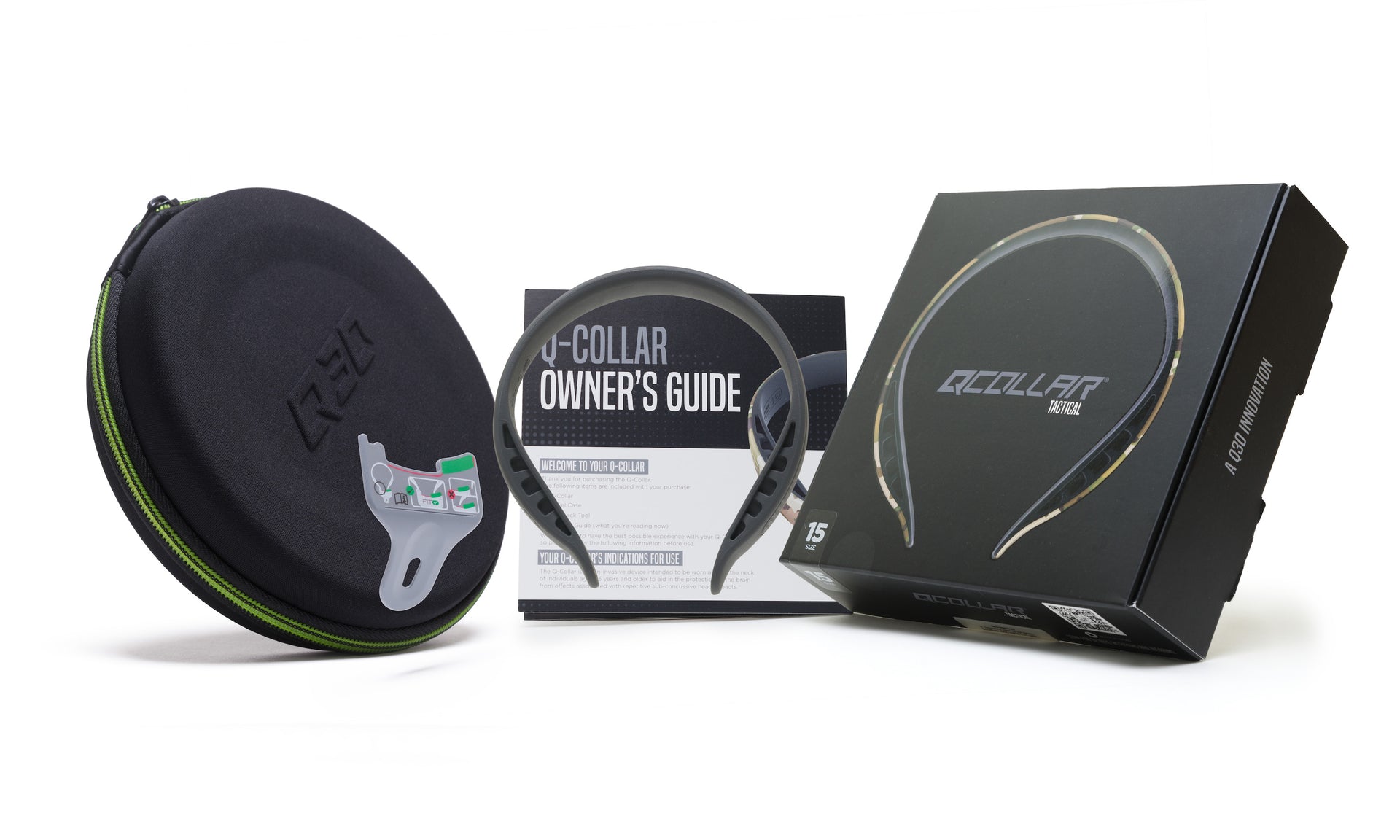 Warranty/Returns
Warranty
When used as intended, and without alterations, your Q-Collar is warrantied against defects in manufacturing and workmanship for 90-days from your date of purchase. Proof of purchase is required.

Returns and Exchanges
If you're not completely satisfied with your purchase, you will receive a full refund upon receipt of your returned order, as long as the product is not damaged or misshapen and is returned in its original packaging and with accessories within 30 days. Return shipping and handling are included. Please contact customerservice@q30.com to initiate your return.
None of the blasts caused me any headache, either short-term or long-term.
The Q-Collar does seem to be well built and engineered. It survived heat and cold extremes without becoming loose and lots of pulling it off roughly with one hand.
I would recommend the Q-Collar for anyone that is concerned with brain slosh in tactical settings.
Surprisingly, the Q-Collar quickly counteracted or prevented headaches. I was able to focus better towards the end of my shift, and did not feel the mental drag often brought on by exhaustion. I have since almost eliminated energy drinks, which really only served to help stay awake, not focus.
After completing a 24 hour evolution with multiple breaches, service member wore the Q-Collar for a 62 shot RPG/Carl G range. Service member typically suffers migraines from rockets ranges… after training, no headaches were observed.
Biggest noticeable difference was that I did not notice a headache/feel dizzy after our rounds through the mortars. We shot 9 120mm and 30 81mm. Last time I did that I felt awful. Massive headache and I almost felt drunk.
I was very surprised at the reduced concussive effect the Q-Collar had... I clearly felt less concussive force with each blast I wore the Q-Collar for.